Dental Staff at Mexican Dental Vacation
Dr. Lino Manuel Guzman Acosta


Dr. Lino Manuel Guzman Acosta (photo below) received his postgraduate degree in Oral Surgery and Endodontics from La Universidad Autonoma de Sinaloa (photo of degree below). He has many years of experience in the field of dentistry, and believes in providing excellent care to his patients. He is a member in good standing with The American Academy Of Implant Dentistry.
He donated his services, part-time, to a charity organization, called Sembrando Amor, (Sowing The Seeds Of Love), for three years. He has provided dental care to under-privileged children and adults, as well as served as a Coordinator to Sembrando Amor.



Dr Lino is an excellent dentist, and speaks English. He is able to do all of the necessary dental exams, and to put together a treatment plan for you with several options. Dr Lino looks very serious in his photo, because he takes his commitment to the field of dentistry very seriously, but is very charming and caring when taking care of your dental needs.
He has an excellent chairside manner, a great sense of humor, and has placed hundreds of dental implants for patients in our office. He is continuously learning new techniques and how to use new technology in the field of dentistry. You are in good hands with Dr.Lino.Here are copies of Dr Lino Guzman's license from the Department of Health. These are only given to Dentists in good standing.


Dr. Jenny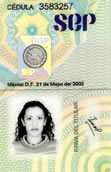 Dr. Jenny- Has been working with us for 2 years now, and is very skilled with restorative work, such as fillings, crowns bridges, etc. She speaks English very well, and will take great care of you.
She has been called "Dr. Jen-tle" by our patients because of how well she treats patients, as well as how painlessly she gives injections. She worked with children as well as adults, so she honed her people skills by catering to children and "dental cowards".
Dr. Jenny received a post graduate degree in Orthodontics from La Universidad Autonoma de Sinaloa, and has treated many patients with braces, and applies her knowledge of Orthodontics when treating patients. With Dr. Lino's Endodontic expertise, and Dr. Jenny's Orthodontic knowledge, you are given much more options as to how to proceed with your treatment. Two dentists' heads really are better than one, when it comes to treatment planning and diagnosis!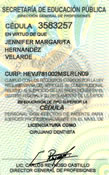 Here are copies of Dr. Jenny's license from the Mexican Department Of Health (SEP).


Alisa Bird, Office Manager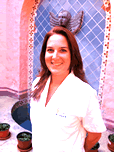 Hi! My name is Alisa Bird, and I am the office manager/dental assistant at Mexican Dental Vacation. I am originally from Seattle, Washington, and have been coming to Mazatlan as a child, and have now lived here full time for more than 7 years. I speak Spanish and English fluently. When you call our office, you will be speaking to me or with Nick, and I look forward to speaking with you and handling your case.
In the time that I have been working here, I have learned a great deal about the needs and concerns of our patients, and am here to answer any questions you may have. I can help you with most anything you need, from questions about your dental needs, to where the good places are to go for dinner, and what to see and do during your dental vacation. I look forward to meeting you, and hope that you become a happy patient!
Nick Konev, Founder & Owner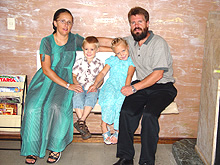 Hi! My name is Nick Konev, and this is my wife Fima, and our children Marina and Christopher. I run the business side of Mexican Dental Vacation, and our competent staff run the dental side. We have partnered to give you the best possible dental care, and you will save money by using our service.
I make sure that you get the best possible prices and modern equipment, and make sure that Dr. Guzman and Dr. Jenny get the best Continuing Education both in Mexico and the U.S. to stay on top of the latest trends, procedures and technology.
A dentist's training is never complete, they must constantly learn how to do their job safer, quicker, and with less discomfort to you, our patient.
I started Mexican Dental Vacation because I came to Mexico for dental work in the past, and had some good experiences and some very bad. I founded the business so that you, the patient, don't have to worry if the dentist treating you is a good at what they do, we have already checked their expertise. I personally have both Dr. Lino's and Dr. Jenny's work in my mouth, and am very happy with their work and chairside manner. I think that you will be too.