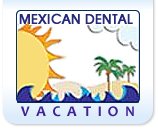 Questions You May Have About Our Dental Office
Call us today! 1-503-213-3779 (Please leave a voicemail and we will call you back) or 011-521-669-925-0559 (Mexico Cell)
Why are your prices so low?
Our prices are low because of several factors.
A dentist's education costs less in Mexico than in the United States or Canada.
Rents are lower in Mexico
Cost of living in Mexico is low.
Overhead costs are low
Most supplies cost less in Mexico. The exact same medication, by brand names like Pfizer, Glaxo, Bayer, Merck, Smith Kline, and others, sells for up to 90% less than US prices, due to trade agreements between various countries.
Taxes are low.
Little or no professional association fees.
Dental lab fees are low.
Aren't you taking advantage or exploiting Mexican Dentists?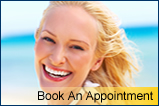 If you look at the following information, you will see that we are actually helping Mexican dentists tremendously.
The ratio of dentist/population in the US is 1:1937. The ratio in Mexico is 1:1251.(Source: http://www.dentalarticles.com/associations/mexico.htm There is no regulation as to how many dentists are admitted to dental schools, if you have the money, you can be a dentist. This has resulted in more dentists per capita than the US.
The average per capita income in Mexico is $6230/year. Compare that to $37,610/year for the US. (Source: http://www.finfacts.com/biz10/globalworldincomepercapita.htm)
There are more dentists in Mexico competing for less money, so this has resulted in dentists dropping their prices, or having a huge decrease in business.
Also, with less income, many dentists cannot attend continuing education courses or afford new high-tech equipment, so many may lag behind the rest of the world in using new technology in their practice.
We screen our dentists to be hungry for new knowledge, to have excellent attention to detail, and great communication skills.
Our prices are a bit higher than the average Mexico dentist, but in exchange you get more value, as our dentists attend continuing education courses several times a year, and our offices have modern equipment.
We help our dentists by giving them a full schedule, and their income is actually much higher than the average Mexico dentist.
Learn more about our Mexican dental staff.
How is the cleanliness of your office?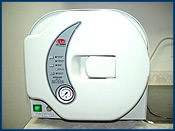 We use an autoclave to clean all of our dental equipment, and sterilizing cleaners on all surfaces. An autoclave is a sterilizer that uses steam and pressure to completely kill all possible contaminates, and is the accepted standard of sterilization in dental offices in the US, Canada and other countries. They are quite expensive to buy and operate, and not every dentist in Mexico has one, or uses it professionally.
Germs and pathogens are invisible to the naked eye, and what looks like a clean office may be very dangerous. We keep the cleanliness and sterility of our office up to US and Canadian standards. Click here to learn more about our Mexican dental clinic facility.
What kind of guarantee do I have when I get my dental work done in your office?
Ask any dentist in the US or Canada for a guarantee for their work, and you will always get the same answer: There is no guarantee.
Dentists (and other medical professionials) are discouraged from guaranteeing their work, as dentistry is not an exact science. The human body is infinitely complex, and nothing is certain.
The best any dentist can do is to offer the best service he can, keeping your budget in mind. US and Canadian dentists are very rushed, and are only human.
If you get estimates from various dentists, you will find that their treatment recommendations will vary widely.
Some will give you a quick look, and recommend the smallest amount of treatment possible. Some will recommend thousands of dollars worth of work. Both have a valid point.
The ones that do minimal work, can see problems with your dental work on the horizon, but will watch that tooth until you break it, and you will get a crown at any cost because you will want to save the tooth.
The ones who will want to do lots of work, can see that sooner or later, you will have problems. They will do the maximum amount of work possible, so that your teeth will last the rest of your life. They would rather do them all in one shot, and believe it will be more convenient for you and them. It is up to you to make the decision that suits you best.
We do offer this guarantee, however, as an extra service to our customers... If you have any trouble with our dental work, and you return to Mazatlan, we will repair it for free within 2 years. Any minor adjustments that you may need upon returning to your country, we will pay for, up to $100 US. Just send us the bill from your regular dentist, and we will reimburse you.
Do you provide airfare and hotels? Can we book the entire visit through your service?
At this time, we do not provide any direct travel related services. We recommend that you book your trip through your travel agent or check out our special offers and travel pages.
What is the training and experience of your dentists?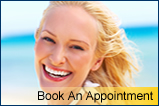 To be a dentist in Mexico requires a 4-5 year university study, and one year of community service. Their education is similar to the US and Canada, and they even use some of the same textbooks in English.
They are required to pass their final exam, and pass a test to get their license from the Health Department. If any dentist is found guilty of malpractice, he loses his license for life. Learn more about our dental staff.
How much time will I need to schedule for my dental work?
In most cases, 1 to 2 weeks. We are very careful about the fit and finish of your dental work, and this requires some time to get it right.
Dental implants are done in 2 stages, the implant is placed on the first visit, and a temporary tooth will be placed on the implant.
You will require a second visit in 2 to 4 months after your gums heal fully. On the second visit, the implant will be adjusted if necessary, and a permanent crown will be placed on the implant.
Does your office provide cosmetic dentistry?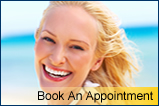 Yes, our office provides cosmetic dentistry, we can give you a Hollywood smile, for less!
People all over the world are realizing that a brilliant smile, nice straight, white teeth, is one of their best assets. You will feel better about yourself, and you will think to yourself, "Why didn't I get a smile makeover sooner?"
There are many options to improve your smile, including porcelain veneers, bleaching, closing gaps between teeth, and we can certainly provide you with the best options to give you a beautiful smile.
Why not take advantage of our low prices, and get a dazzling smile now, instead of later?