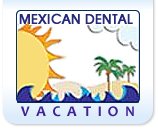 The Dental Alternative
The Dental Alternative, Issue 19. The Global Economy And Your Teeth
October 21, 2008
Welcome to The Dental Alternative.
The Poor Economy And Your Teeth
One thing about your teeth is that they never take a break, whether the economy is good or bad. They still get attacked every day by acids in your mouth, and by plaque which starts to break down the enamel if not brushed off every day, and cleaned by a dentist every 6 months or so. If you have decay happening already, it won't stop just because times are hard.
This is not something that most of us think on a daily basis, especially when we have so much on our minds these days, but is slowly happening nonetheless, and needs to be taken care of.
There is a silver lining to the poor economy, and that is the price of oil. Oil fell from a high of over $140 per barrel in the summer, down to $72 today. This means that airlines are lowering their airfares, due to the lower price of fuel. An example airfare from Seattle to Mazatlan is now as low as $992 for 1 week airfare and accommodation at the Costa De Oro hotel, which is a 3 star beachfront hotel, for November travel. Cheap!
The other great thing is that even though the economy is poor, the US dollar has risen in value compared to other currencies. This means that you get over 13 pesos per US dollar, and almost 11 pesos per Canadian dollar, making your Mexican Dental Vacation that much cheaper.
So, if you have been considering getting any dental work done with Mexican Dental Vacation, now is the time.
Get all of your dental work done, quickly and inexpensively- good for your body and wallet. Get a nice beachfront vacation- good for your mind and soul. You may have been under stress, thinking about the bad economy, and a beachfront Mexican Dental Vacation may be just what you need!
Call us at 1-503-213-3779 (Please leave a voicemail and we will call you back) or call our office manager, Alisa, at 1-503-213-3779 (Please leave a voicemail and we will call you back) or visit us on the web at www.mexicandentalvacation.com to get more information. You will be glad you did. Do it today!