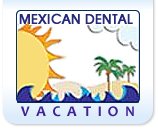 The Dental Alternative
The Dental Alternative, Issue 13. Week of August 26 availible.
August 03, 2006
Welcome to The Dental Alternative.
Week of August 26 Availible
Just a quick note to tell you about an opportunity that has come up that may benefit you.
We have a timeshare week availible at the El Cid El Moro, for a price of $300. The El Cid El Moro is a beachfront resort in the hotel zone of Mazatlan. Visit their website at www.elcid.com
This is a week that was bought by a customer, and unfortunately, their travel plans had changed, and they can't get their money back from the timshare exchange.
If you have been thinking about coming down for dental work, this is a great chance to finally get it done.
Whether it is implants, crowns, bleaching, a painful tooth that needs a root canal, we can take care of it.
If you would like to take advantage of this opportunity, pick up the phone and call us at 1-503-213-3779 (Please leave a voicemail and we will call you back) or visit us on the web at www.mexicandentalvacation.com to get more information. You will be glad you did.