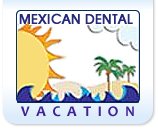 The Dental Alternative
The Dental Alternative, Issue 8
March 20, 2006
Welcome to The Dental Alternative.
A quick note to those of you who are considering having their dental work done at the border.
We have been contacted by Tiger Aspect, a top TV and film production company from London, England. Tiger Aspect website here. They are doing a production for The Discovery Channel, a story on the health of American's teeth. This story will include a segment on Americans going to Mexico for dental work. We don't have a clinic at the border yet, but will in about 2 years. In the meantime, I have agreed to help Tiger Aspect find someone who is interested in doing their dental work at the border. They will follow you while you get dental work done, and will get your input as to how your experience was, from start to finish.
If you have considered doing your dental work at the border, and would like to be on The Discovery Channel, please fill out our contact form on our website, or click here. We will then contact Tiger Aspect. Please be advised that we are not responsible for your safety, nor do we guarantee the outcome of your dental work. We also will not recommend any dentist, this will be something you need to do yourself. You will probably be required to sign a release form with Tiger Aspect as well.
The only reason that Tiger Aspect will not be coming to our clinic to do this story is because of cost and convenience. They want to be able to talk to you before, during, and after your dental work, and this means that the closer you are to the border, the more convenient it is for everyone. It will cost them less to do the story while based in a border state, compared to staying at a resort in Mazatlan. Am I giving away business to dentists at the border by doing this? No, they need business too, and the more popular the idea of coming to Mexico for dental work becomes, the more everyone wins. Remember, we will not be held responsible for any work they do on you.
As I said earlier, we will soon have a clinic at the border, and as long as Americans keep going to Mexico for dental work, we will keep expanding, and providing excellent service. We will continue to be the best place to go for dental work in Mexico, and soon you will have more than one location to choose from. In our last email, I gave you an incorrect link to Platinum Television, who did a story on our clinic recently. Here is the correct link. Platinum Television from Florida. www.platinumtelevision.com
Don't forget to visit our website at www.mexicandentalvacation.com to book an appointment, or pick up the phone and dial 1-503-213-3779 (Please leave a voicemail and we will call you back) to talk to us directly. Join our list of happy customers, and start enjoying that beautiful smile sooner rather than later!