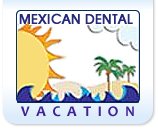 The Dental Alternative
The Dental Alternative, Issue 5
January 09, 2006
Welcome to The Dental Alternative.
Are the holidays over? Not if you give yourself an extension!
The holiday season is all about giving, and arranging for family and friends to be together, but unfortunately, it is overwhelming to most of us. We get caught up with making arrangements, buying gifts, and making everyone comfortable, that we forget about ourselves. Now that the holiday season is over, most of us go back to work, catch up with things that were set aside during the holiday season, and life passes us by. In most parts of the US and Canada, it is raining or snowing, and this ads to the feeling of "can't wait until this time of year is over". Well, it doesn't have to be like this.
Why not take a vacation, get re-energized, and come back a new you? Because many people don't travel right after the holidays, this is the perfect time to take advantage of a slower time of year for us, where appointments can be made on short notice. We can get you in as quick as 3 days notice, and you will not have to wait to get the smile of your dreams!
Extend your vacation, and come here where the people are friendly, and where the weather is 70's and mid-80's, and sunny for the last 2 months. Enjoy a beachfront vacation, and get that bright, beautiful, noticeable smile! A beautiful smile is something that can change your entire outlook on life, so getting it done sooner is always better than later. Give this gift to yourself this year. Visit our website at http://www.mexicandentalvacation.com or pick up the phone and dial 1-503-213-3779 (Please leave a voicemail and we will call you back) to find out more information or to book an appointment today!