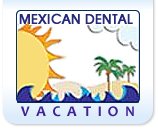 The Dental Alternative
The Dental Alternative, Issue #001
March 21, 2005
Welcome to the premier issue of The Dental Alternative!
We are happy to be able to give you ongoing information about how we can help you with excellent dental care at a great price. Well, we are happy to report that we have had many customers from the US and Canada who have come here to have their dental work done, and were happy with the level of care that they received. Steve Martushev from Ford, Washington, George Rawson from Nashville, Tennessee, Stephan Basargin from Homer, Alaska, and many others, some with minor work that needed to be done, some with work in the thousands of dollars, but all were taken care of within 1 to 2 weeks time, with excellent results. The average savings was 72% compared to their estimates in the U.S.
There were many different procedures that our patients needed, and we were able to take care of everything, including root canals, posts, crowns, dentures, cleanings, fillings, bridges, extractions, etc. Thanks to all of you who gave us the chance to help you with your dental needs. If you are one of our patients that have booked an appointment, we look forward to meeting you. If you are debating about coming to our office, we urge you to get as much information and ask as much questions as you like, and then make a decision. We hope that you can come here to let us take care of your dental needs, and enjoy a vacation at the same time!
We are starting to get more walk-ins and bookings from all over the U.S. and Canada, from Alaska to Florida. There are many places in North America where the cost of dental care is absolutely unbearable, and people have no choice but to seek out an alternative to these prices. Here is a calculator that shows the prices of certain dental procedures in various cities in the U.S. www.bracesinfo.com/dentalcosts
As you can see, the average fee of all of the US cities for a porcelain on gold crown is $876, with the highest fee (95th percentile) being $1333. Compare that to our fee of $360, and you can see why it makes sense to book your appointment now! This is the primary reason that we decided to give Americans and Canadians an alternative to high-priced dental care. We offer a safe, comfortable, beachfront clinic that is run like a U.S. dental office. Our dentist, Dr. Lino Guzman Acosta, speaks English and takes great care in getting his work done to perfection.
Our clinic is very different from other clinics in Mexico. For example, 80% of the dentists in Mexico do not pack cord around prepared teeth when they take an impression for a crown. Packing cord is time consuming and almost every dentist would rather not do it. Dr. Lino packs cord every time. The result is an impression which is much more detailed, and the lab can make the crowns with a much better fit. The crown will look better, and last longer.
We have had a surprising number of patients who have come to our clinic to correct dental work that was done elsewhere in Mexico. Of these people, the majority of the work was done in Tijuana, on the border of California and Mexico. In most of these cases, the biggest problem was in the seal of the crown to the tooth, which is an indication of an impression taken with out cord. We corrected these problems with crowns built from impressions where cord was packed.
Many of our patients booked their own accommodations, and some took advantage of our special offer of $349/ week at 5-star resorts, for a room that sleeps 6!
Resorts like the El Cid or the Balboa Towers and The Hideaway Beach Club and others.
How can we get these luxurious rooms at only $349/week? Well, as they say in real estate, the most expensive room is the one that is vacant. These hotels sign up at vacation exchange companies to sell their vacant rooms at deep discounts, and we have access to The ICE Gallery, www.icegallery.com which is International Cruise Exchange, a vacation exchange company. They would rather break even on the cost of the rooms compared to losing money.
Although these rooms are offered at a deep discount, the hotels still want you there for 3 reasons.
1. They want you to spend money in their restaurants and bars, and to tip their staff.
2. They want you there so you can explore their resort and tell others about it when you come home.
3. They want you to attend a timeshare presentation. Although this is not mandatory, you will be approached to attend these presentations many times while you are in Mazatlan, or anywhere else in Mexico.
If you go to any of these presentations, you will spend about 90 minutes to 3 hours in the sales pitch. Remember, if you buy, you have 5 days to change your mind, but be aware that the contract may state that you can not get your down payment back.
We have been monitoring airfares to Mazatlan from cities in the US and Canada, and it seems that there is no better time to fly but now! We have seen airfares in the range of $342 CAN from Calgary, Alberta including taxes. This is about the lowest fare in the last year or so. America West, Alaska Air, Westjet, Continental, all have slashed prices to fill their planes to Mazatlan. If the high prices of airfares have been holding you back from coming to Mazatlan, now is the time to fly!
Many people have been using their Air Miles to book their flights to Mazatlan, and there is no better deal than that! Many people who own their own business and buy everything through their Air Miles card or Alaska Air Miles card, find that they can build up their Air Miles quickly. With Air Miles, and our $349/week for accommodations, you can get to Mexican Dental Vacation very cheaply!
Many people contacted us to know what they can expect when they come to our office. You can expect to have a complete diagnosis. You will have as much time as necessary to discuss your needs and concerns with our dentist. We will give you all of the informed consent that you need, including your options, and our recommended treatment plan. In the end, you will make the final decision concerning your needs.
You can expect to have a clean, sterile office, on the beach, with great weather and ocean breezes. You can expect the instruments to be sterilized with an autoclave, a steam and pressure sterilizer. You can expect to have your work done safely, and with the proper amount of time per procedure. We will not rush your work, and will do the impressions and models properly. We will finish your work in 1 to 2 weeks, but plan on 2 weeks if you have considerable work to be done. There may be complications with some procedures, such as inflammation after a root canal, which takes medication and time to relieve, so 2 weeks is always better than 1.
Many people have been asking for testimonials form previous customers to have an idea of how we operate. Please email us at questions@mexicandentalvacation.com or call us at 1-503-213-3779 (Please leave a voicemail and we will call you back) to get a list of telephone numbers and email addresses of past patients.
We look forward to seeing you in Mazatlan and taking care of your dental needs. Next time on The Dental Alternative:
What You Should Know About Driving To Mazatlan
Summer Vacation!
What The Mayor Said At Our Last Meeting.
Nick Konev, Owner
Mexican Dental Vacation
Olas Altas #1
Centro Historico
Mazatlan, Sinaloa - 82000
Phone: 1-503-213-3779 (Please leave a voicemail and we will call you back)
Mexican Dental Vacation
1477 SE 1st Ave. Suite 108,
PMB 415
Canby, Oregon - 97013